Staff Testimonials
As an academy our mission is 'Transformation for All'. This applies to our staff as well as our students and wider community.
As such, opportunities for training, development and career progression are integral to the work we do. This page details testimonials of some of our incredible staff members who have progressed into various roles whilst at St Mark's Academy, highlighting the transformational impact of our culture and professional development programme.
Ms Fahey
From Newly Qualified Teacher to Principal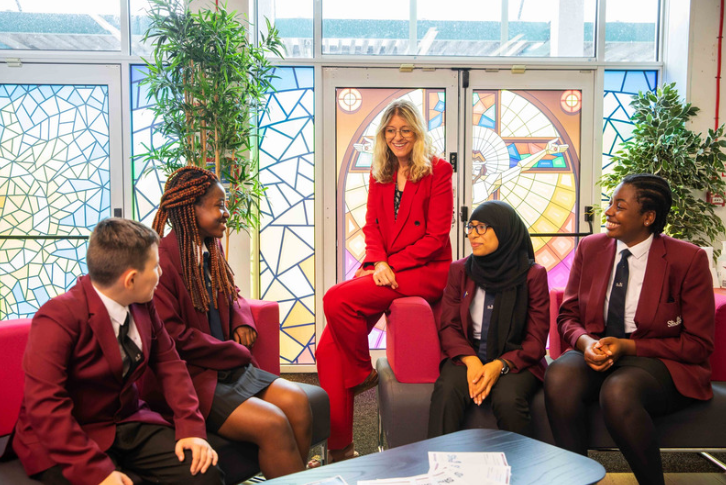 I joined the Academy in 2008 as an NQT in RE. After a year I was promoted to Head of Department and given the opportunity to study a Masters in Teaching and Learning and take part in the Teaching Leaders Programme. These CPD opportunities allowed me to gain the necessary skills to progress to Head of Humanities in 2012. From here I completed an NPQSL and was promoted to Vice Principal in charge of Sixth Form. After being exposed to whole school leadership of Teaching and Learning and Outcomes as Senior Vice Principal, I jumped at the chance to study the NPQH with Anthem. Today I have the honour and privilege of leading this community as Principal.​
Over my 13 years at this Academy, I have been able to transform professionally and I want to afford the same transformational experience to every individual who works or studies here. Our CPD offer is central to this mission and vision.​
Ms Glymidou
From First Year Teacher to Senior Leadership Team
From the first day at St Marks, I felt like part of a family and in my first year as a teacher, I have never felt unsupported or alone. The sense of community and the support here is impeccable. St Mark's gave me the opportunity to develop and succeed in my teaching career and realise my professional and personal ambitions as it offers an exceptional Professional Development programme underpinned by cutting-edge pedagogical research and tailored to teachers' needs. I can't speak highly enough of all the staff involved in our personal and professional development at St Mark's.​
I joined St Mark's in 2015 as an MFL and EAL teacher and 4 years later, I was appointed Head of Languages. I developed rapidly as a result of the range of theory and strategies shared in CPD, all of which are underpinned by the opportunity to practise during weekly instructional coaching session. Before that, I enjoyed several different roles learning new skills that have helped me to move forward in my career. In 2016, I had the privilege to assume a wider School-wide role as the Careers Coordinator supporting the Careers Lead to successfully meet their objectives in developing the School's Careers Strategies, establishing policies and procedures for embodying employability in the curriculum. On the back of that, and under their robust guidance, I have assumed myself the role of the Careers Lead since September 2018. Two years later, in 2020, I completed my NPQML which helped me develop further the skills, knowledge and behaviours in order to be a high-performing middle leader. ​
I am currently completing the Teacher Fellow Programme with Ambition Institute, which will help me deepen my understanding on how pupils and adults learn, and will also support me in designing and leading effective teacher education CPD sessions for my School.