Results Day 2018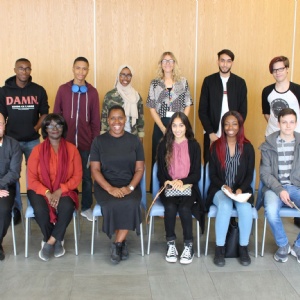 St Marks are celebrating its best ever Academic and Applied General outcomes. Academic results have improved by over half a grade on average from 2017, from -0.42 to +0.18 in 2018. This equates to an increase of two grades from an E in 2017 to a C in 2018. This is an absolutely phenomenal improvement and demonstrates the continued success of our exceptional 6th Form. Our Applied General average grade is a Distinction -, despite greater rigour and the introduction of a 60% exam element.
One student, Nawal, attained a Distinction* in Travel and Tourism, a Distinction in Health and Social Care and is heading to Brunel University to study Journalism and Culture to pursue a related career.
We are extremely proud to acknowledge that the percentage of students achieving an A*- C grade has risen by 33% in one year. Similarly the percentage of students achieving A*-B grades has increased by 25% and the percentage pass rate when you combine Academic and Applied General subjects has gone from 82% in 2017 to 98% in 2018.
On average we have seen a dramatic increase in the Value Added (VA) across academic subjects. The majority of A level subjects are well above National Average, with many securing a progress score that is half a grade higher than achieved nationally. We are particularly proud of the following subjects who have supported students making outstanding progress;
· Art VA 2.32
· Sociology VA 1.04
· Creative Writing VA 0.84
· Psychology VA 0.57
· Core Maths VA 0.42
· EPQ VA 0.38
· History VA 0.26
The average grade for our Tech level, Travel and Tourism is a Distinction*. This will support 23 students securing top university places.
The Principal of St Mark's Academy said, "We would like to acknowledge the fabulous staff who have worked tirelessly to ensure that students are well prepared and equipped to sit rigorous, linear exams under new specifications. These outcomes are a testament to their hard work and dedication to ensuring that every child succeeds. We would also like to give a special thank you to the families who have supported their children throughout their time at St Mark's. Our community is enriched through your unwavering support."