Gabby speaks out!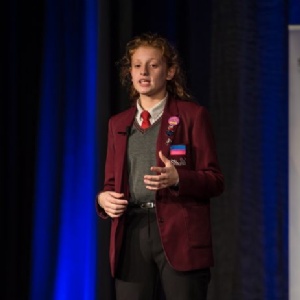 A huge congratulations to our Gabby who participated in the Speakout Challenge regional finals!
1 or 2 candidates from around 5 schools in the borough got up on stage and spoke passionately for 2 minutes on a topic of their choice.
Our Gabby is growing an appetite for public speaking, recently expressing her personal experiences of her early days at the academy to visiting year 6 students. However, this was the first time Gabby would take it to a competitive level where she drew from personal experience to earnestly convey her message about love in a speech entitled, "I Love You". In this speech, Gabby urges us all to show more kindness to one another, from a friendly smile to a stranger to those closest to us. She also reminds us of the importance of love and the value of the phrase, "I love you", prompting us not to throw it around carelessly and save it for those we truly love and for when we really mean it.
When asked, Gabby told us she wasn't nervous at all and she was happy with how it all went saying she did the best she could have. It is incredible to see one our students exhibit one of our core values in such a fantastic way. There is no doubt Gabby has made her family, our academy and herself extremely proud.