Fantastic Success with the Shoe Box Appeal 2017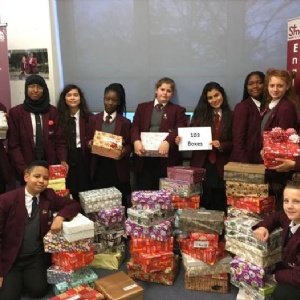 Today, 103 shoeboxes left our Academy and will be going to various parts of the world making countless children happy, giving them joy and hope in what can be very challenging and difficult circumstances.
This year students at St Mark's have been working together for the 'shoe box' appeal. The campaign has seen the students work together to fill shoe boxes with gifts so that children all over the world in difficult situations are able to feel the full joy of Christmas. With excellent leadership from Revd Andrew and Miss Carter our students and staff have really risen to the challenge. The Student Leadership Team deserve a special mention as they have been amazing and were responsible for checking, sorting, wrapping many of the boxes and really helping to drive the campaign.
"St Mark's have been amazing in this initiative. I am so proud and honoured to be serving with such a caring, loving and compassionate community." - Revd Andrew