Work Experience at the House of Commons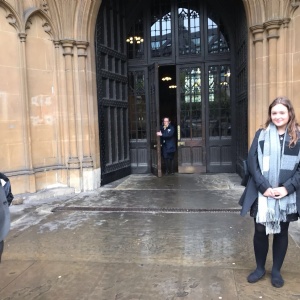 One of our Year 13 student's had a great opportunity to complete work experience at the house of commons, shadowing a leading political jornalist for the day. Read on for her story...
"On Wednesday 18th October 2017 I had the opportunity to attend the House of Commons as part of a one-day work experience with Politico Magazine, organised by Mr Foster. This experience was not only an excellent way to gain some sort of experience in journalism, it has also sparked an interest in politics for me, which I never deemed possible as I have always attempted to avoid the political industry.
During my visit, I met and spoke with journalist Charlie Cooper, who gave me a tour of the House of Commons and a fascinating talk on the history of the building, and politics itself.
I am extremely lucky to have even had the opportunity to have sat amongst other visitors and journalists whilst Parliament was in session, I listened to the debates and the importance of politics and voting really sunk in with me. I was given an insight to the life of a political journalist and received extremely helpful advice from Charlie Cooper when discussing career options in the field of journalism.
As a young person who has just recently turned the voting age, this trip has been extremely beneficial to my understanding of the importance of democracy and that we shouldn't take our right to vote for granted."