Sixth Formers Shine at Wimbledon Bookfest 2017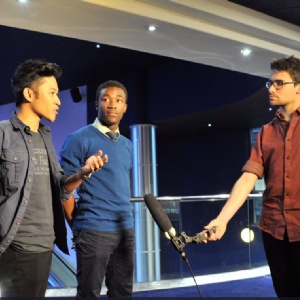 Our fantastic Sixth Formers have yet agin showed themselves to be a massive credit to the school as the ably took part in the wimbledon Bookfest as part of the Take 10 Film Making Project.
On Tuesday 17th October a select group of Year 13 students were invited to a special showing of the Bookfest short films made by students across the Borough of Merton. These students had played a part in the filming and or editing of a film about the Tony Kane who is the mastermind behind the local Time and Leisure magazine and Bookfest itself.
The film was beautifully crafted and highlighted the talents of the students involved.
It is worth noting as well that our and Head Boy Emmanuel was one of the film crew and he gave an excellent speech in front of the audience which showcased the special talent of the group and the work done by St Mark's Academy in supporting the project.