St Mark's Academy celebrates another strong set of Key Stage 5 outcomes.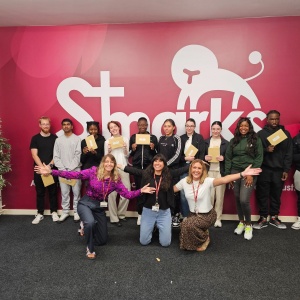 According to forecasted changes in national grading, tens of thousands of students face a likely drop in As and A*s as ministers aim to return results in England to pre-pandemic levels. Despite the national picture of falling grades, St Mark's students have continued to overcome adversity and secured transformational outcomes.
An exceptional 24% of A Levels at the academy awarded A*-A and 60% awarded A*-B.  This is compared to 25% and 57% in 2022 and 11% and 25% in 2019 respectively. The BTEC picture is equally impressive with 45% recording a Distinction* or Distinction. The number of students awarded Merit grades as increased from 83% to 86% between 2022 and 2023.
The graph below shows the changes in A level grade outcomes, comparing St Mark's with the national picture.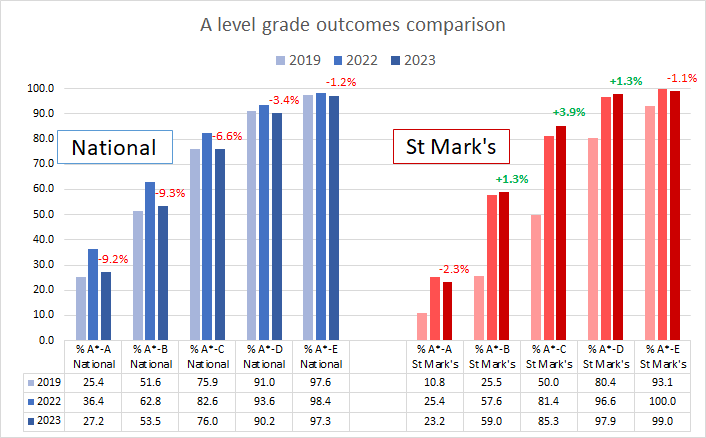 Nationally, grades have dropped significantly from 2022 and are now close to 2019 outcomes
St Mark's have managed to maintain similar and slightly higher A level outcomes to 2022
This is an incredible achievement, which sustains and builds upon the massive improvements that have already made since 2019.
At St Mark's we offer a broad and balanced curriculum and support our staff endlessly to deliver teaching and learning of the highest quality. The impact of this can be seen in the progress of our individual subjects:
In Maths 70% of students taking this subject achieved an A or A* and 100% of students were awarded A*-B

In Chemistry 100% of students secured A*-B grades

In Home Languages, 100% of students achieved A* to B grades

In RE, 100% of students achieved grades between A*-C

In Psychology, 100% of students achieved grades between A*-C

In A Level Art, students have secured outcomes that are well above similar students nationally

In A Level Biology, students have made better progress than similar students nationally

Students' progress is particularly strong in Applied Science, Business Studies and Health and Social Care BTEC.
As with every cohort, we are extremely proud of all students. This year, the academy is celebrating its first successful place at Oxbridge. SL was awarded A/A/A* in Biology, Maths and Psychology respectively and will be taking up her place to study Psychological and Behavioural Studies as an undergraduate at Cambridge University this September. Many of our other students have also secured university places:
93% of students will be attending their first or second choice university
75% of students have secured their first choice university place
100% of Pupil Premium students who applied to university have secured a place, with 86% attending their first choice
Headteacher Hannah Fahey said: "It is a privilege and honour to lead this community and the results do justice to the endless hard work of every member of the St Mark's family. Despite everything that our students have faced, they have overcome these challenges and ensured that their futures remain as bright as ever."